---
EVERY TIME WE HAVE NEWS WE PUT IT ON TOP OF THE 'OLDER' NEWS, SO SCROLLING DOWN MAY BE A BIT CONFUSING - ESPECIALLY IF YOU COME TO 1998 FACTS PRESENTED AS 'NEWS'.

- - - - - - 2 0 1 7 : - - - - - -

BEFORE WE GO ON...

September 2017 - The past 10 years, Jozzy has been doing a great job with the Pierced Arrows site and facebook pages for both Pierced Arrows and Dead Moon. It didn't seem necessary to have a 'news' page here, although the terrible news of Andrew's passing away was of course a sad reason to update this site. The reunion gigs were mentioned here, too... but although Fred and Toody have now officially laid the Dead Moon name to rest, there IS news. About a Dead Moon Night. In Portland, October 5th. And not just any Dead Moon Night... not just this October 5th.
Click on the image below!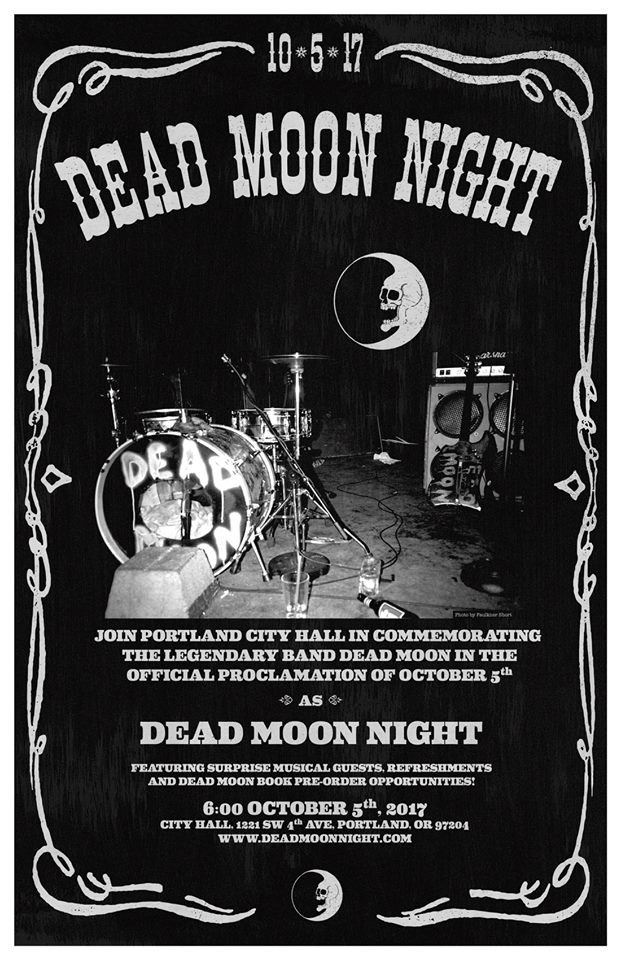 ---
DEAD MOON - THE BOOK!
It's been in the works for quite some time but... yes!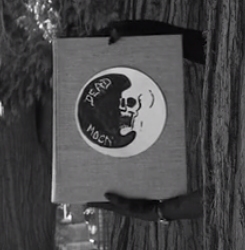 Check this out NOW for the latest news and pre-orders etc!
---
- - - - - - 2 0 16 : - - - - - -
HARD TO COMPREHEND...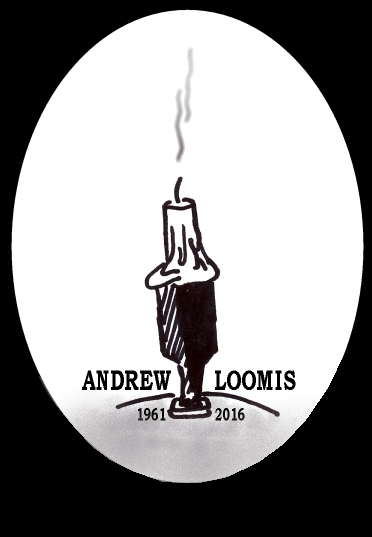 ---
- - - - - - 2 0 0 7 : - - - - - -
HERE WE GO AGAIN!
September 2007 - The 45 of Pierced Arrows is all we could have asked for! I just got a test pressing and, like it says scratched in the endless groove around the label - "here we go again!"
As you may have heard on the official Pierced Arrows site that's now fully functioning (see here if you havenít!), a firm 12 songs were played at the Drinking From Puddles radio show. Jozzy has put them on line!
Suppose your computer isnít capable of picking up that broadcast - hereís a little review.
Black Rainbows starts off with a firm 4/4 beat, then comes a Cole riff like we love Ďem, basslines spinning around the chordsÖ Fred sreams "never say do or die" and I can already see fists punching in the air.
Caroline is just as fierce in its opening riff, but the verse has Toody crooning over nicely strummed chords. The chorus riff and vocals nod at Down The Road, but only just a bit. Itís the 45ís B-side, and next is the A-side;
In My Brain: OK there is no avoiding it, this sounds like Dead Moon, that is to say, an eager and hungry Dead Moon. If anyone could feed Fred so much Jšgermeister that he would finally reveal HOW he writes this kind of songs. Please.
Over The Edge sounds like very much Dead Moon because, hey yeah, itís a Dead Moon song! Although Fred first claimed they were all new songs, this one was slipped in, apparently.
Next is a Neil Young cover, Mr. Soul, which is made into a Pierced Arrows song like some songs were made into Dead Moon songs: strip the fuss, and rock out! Fred and Toody share lead vocals on this one.
C-U is a slower song, based around a nice bass riff and yet another fine melody: "donít know where and I donít know when, I only know I need to see you again"...
Up On A Cloud is one of the surprises: a country waltz, no less! Sung by Toody, this might be written for the Western Front or the Range Rats. It could also be brand new, I donít know Ė but donít let the words "country waltz" scare you. Hell yeah, I love this one!!
What follows is Lost, and itís one 4-chord riff throughout the song Ė but with a stand-out chorus nonetheless. And a nice vocal break on top!
Walking Wounded has Fred and Toody taking turns for vocals, sharing vocals in the chorus. I canít make out the words though, sorry!
A couple of seconds silence, then we hear Fred grumble: "where the hell is... ah, here it is"; Toody says "Fredís gonna show his alternate talent here!", we hear her laugh, Fred says "ready?" and what do you think... Shades starts with a howl on the blues harp! A bassline in the best 'Fever' tradition and a loosely swinging gem is the result!
The Wait is one of the prize songs in this set, Fred and Toody taking turns again for the vocals in a new anthem that will have people screaming on top of their lungs at concerts: "baby wonít you wait for me..." Brilliant last chord, by the way (youíll hear).
Frankenstein closes this set, itís an up-tempo one, reminding me of The Ratsí best songs.
All in all, yes, it is GOOD, and not just good. Listen for yourself. Oh, and order that 45, too. "Here we go again"... Pierced Arrows, all fucking right!

---
PIERCED ARROWS SITE IN PROGRESS
JUNE 2007: From now on, you can have a look at the Pierced Arrows website for all the things you want to know about this new band! It's still in progress but hey, it looks great - photo and all. The logo was done by Jozzy!
Of course we will keep this website up and we'll give you whatever news we have on both Pierced Arrows and the Shiny Things, but this is and will be the Dead Moon site.

---
WANNA HEAR A SNIPPET OF PIERCED ARROWS?
JUNE 2007: Fred gave it the thumbs up, so here you go: one minute of Pierced Arrows live, in sound and vision - although it's in the dark. I mean dark, very dark. (There's a couple of flashes from a photo camera - then you can actually see something!) Thanks again Simone!
(It's 20.210 KB so maybe it's best to right-click and 'save target as'...)

---
DEAD MOON ORIGINAL BASS DRUM UP FOR SALE!
JUNE 2007: This is pretty bizarre. The original beaten-up bass drum from the drum kit Andrew has played for so many years, the one you see on the Live Evil sleeve, is FOR SALE! You must come and pick it up in Holland, it says "no shipping". So hey... you can have a look and place a bid here.

---
SHINY THINGS LIVE PHOTOS!
Yep, Simone was at a Shiny Things gig, too, and we've got proof! That's to say, she's taken some way cool photos there. Go have a look. A review will follow, too!

---
PIERCED ARROWS LIVE REVIEW(S)
That's right, for all those who whould have loved to see the debut of Pierced Arrows, here's a review written for the Digital Zone by Simone MŁller... and now it's with photos!
The place was packed, as you can see: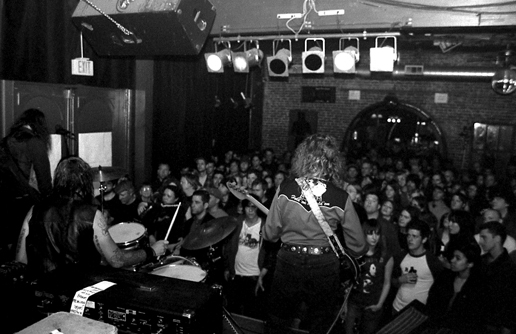 The photos were taken in glorious analog black and white by Simone (I love that!), and she also gave us a 1 minute sound/vision clip, but I have to check with Fred if I can put that on the site... thanks a lot Simone!
And Harp Magazine has a review, too, as has Willamette Week: here!
On the Dead Moon Fanclub pages is also a little review...
I think we can safely say it's a big welcome to the Pierced Arrows, and congrats Andrew because from what I hear the Shiny Things is way, way cool!

---
GREG SHADOAN ON THE SHINY THINGS
MAY 2007: If you want to know more about Andrew playing with the Shiny Things, you should definitely read what Greg Shadoan has to say!
Most of you will have realised that the Shiny Things is now a newly-formed band, but... OK, just read all this in the Dead Moon Fanclub pages then!

---
MYSTERY DRUMMER REVEALED
MAY 2007: After some speculation we now have the name of the Pierced Arrows drummer. His name is Kelly Halliburton, and here's another photo Simoe took at the debut gig...: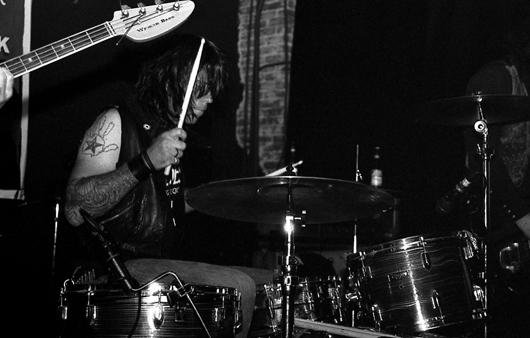 You may know him als bassplayer (like, with Resist - see here, although that was a while ago - they broke up in 1993!), mostly in the punk/hardcore vein. One of his current bands, Severed Head of State, will in fact start a European tour next week! Want to know more about his musical past? Kelly has his own MySpace so check it out!
Also check out the "extras" section on the Unknown Passage DVD: in a crazy coincidence, it's Kelly we see there, in Germany, talking about his dad playing with Fred in the seventies. If you haven't got that DVD yet... well, you should have it by now. If you don't, buy it. Period.

---
ANDREW NOW PLAYING IN THE SHINY THINGS
MAY 2007: Andrew is playing in a band called The Shiny Things!
You can hear it here and yes their "hopped up teenage garbage" is damn cool!
Apart from indeed Andrew Loomis on drums, the site mentions Becca D (lead guitar), Mark Nelson (guitar abuse), and Terry French (vox, stun vox, lead vox).
There are gigs on their site and I heard about plans for a European tour later this year! Will you be there? I know I will!

---
MAY 2007: Those wonderful people of Magic Umbrella films have openend a MySpace page where you can hear 4 (four!!) complete songs by The Range Rats: the country duo Fred and Toody had (with 'Rollie' the Roland drumcomputer).
Drumcomputer, you say, can that be any good?
Listen to these and tell me what you think. I love it, and I think that the whole unreleased album of Range Rats songs should definitely NOT stay unreleased!

---
FRED AND TOODY ARE BACK... WITH 'PIERCED ARROWS'!!
MAY 2007: Fred has just personally confirmed that he and Toody have formed a new band, that goes by the name of Pierced Arrows, saying:
"All new originals. Trio, 1st gig, May 18th at Ash Street Saloon in Portland."
Well, what can I say? Way cool! If there's any more details we'll let you know, for now I just wish I could fly to the U.S. for THAT one!
Read about it here: Willamette Week and Harp magazine for the usual rumours flyin'. One of these rumours is now aslo confirmed by Fred: the drummer is the son of someone who played with Fred in the early seventies. (Correct: "I was doing a band called Albatross at the time"-Fred).
Somewhere else there was a rumour about a girl drummer: it's not.
Oh, and he name Albatross has been added to the History Zone (that has been updated and correcetd at some points)... and I'm trying to get some more info as we speak!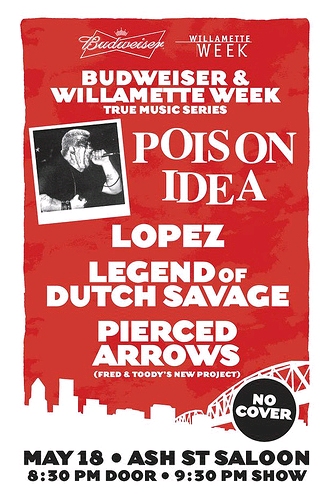 ---
FROM THE VAULTS: "D.O.A." CLIP
MARCH 2007: To tell you the truth, I didn't know that there was a clip made for "D.O.A.", but here it is... as you can see it's directed by Tim Otto, with "executive producers" Fred and Toody. The source is beyondthebeatgeneration.com and that's something worth checking out.
And did you see that interview Ratso did with Fred and Toody...? Right here! Enjoy!


---
THE WEEDS ARE HERE!!
MARCH 2007: As you have read (if not: scroll down), The Weeds (aka The Lollipop Shoppe) have seen their first Fred Cole approved rerelease since the sixties. It's on CD and audiophile vinyl, on Wayback - a Music Maniac label. And... know what - click here to see for yourself!
(Another superb realease on Wayback, Hans!!)


---
DEAD MOON NIGHT / 13 OF MY HOOK: FIXED
MARCH 2007: A while ago, the albums "Dead Moon Night" and "13 Off My Hook" were made available on one CD for the first time. Gooooooood. But hey, since it had to be taken from vinyl (and someone somewhere made some mistake), the CD was pressed from a master that had some faults. Baaaaad. So now Music Maniac have things fixed and the flawless copies are available as from now! You have a copy with the needle jumping on some points? You can swap it for a new one!
(Me, I'm just keeping the 'old' one, and buy myself a 'new' one, no problem. If everyone hands in their 'old' copies, hey, these first-edition mis-pressings will become collector's items!)


---
DEAD MOON ON VERA DVD
FEBRUARY 2007: Legendary concert hall Vera (Groningen, the Netherlands) have published a book of poster and flyer art, something Vera has taken way beyond the usual 'band playing, three bucks, starts at ten' kind of thing. It's called "Rockin On Paper - The Vera Club: A History In Posters". There's two Dead Moon posters in there, and a great bit of testimony about Dead Moon from Dik Smid, friend of the band, who has seen them (almost) every time in Vera - and plenty of times elsewhere, for that matter. The DVD is definitely home-movie quality at some points (which is not necessarily a bad thing) and yes it's worth checking out! What's captured is three songs (54/40, I'm Wise, Out On A Wire), with (1) Toody breaking an E string halfway 54/40, (2) the band taking a short break to get things fixed, (3) some cool on-camera rants from Andrew, (4) Edwin 'der mixer' Heath getting a baptism Dead Moon style, and (5) a brilliant "we take it from where we left off" coming back into 54/40.
Also appearing: Dinosaur Jr, Sonic Youth, The Gun Club, Jon Spencer Blues Explosion and others.
The accompanying book is in Dutch with English translations, the posters are brutal and brilliant, and it makes nice reading too. Yes, Nirvana played there, and dozens of other bands that are now icons of the underground worldwide. Plenty of stories!
Surprisingly, there is a rather silly put-down of Link Wray. Could it be that this comes from the old (and pretty childish) rivalry between some guys in the Groningen garage scene and, well, most of the non-Groningen Dutch garage scene...? Link chose two Dutch garage rockers from The Hague as a band, taking them to the ends of the earth, those two being hailed everywhere as the best band Link played with since decades... and then they played Vera and, after indeed a fine supporting act by The Firebirds, Link and his band tore the house down.
This book tells you otherwise. Ho-hum. Go figure! Funny thing is, those Groningen and non-Groningen bands themselves have always been getting along fine. They don't fuss, they fuzz.



---
THE WEEDS: A GREAT RE-RELEASE
FEBRUARY 2007: Oh YES!! We all know The Lollipop Shoppe, right? Surely we all know it was never Freds idea to call the band The Lollipop Shoppe...? That's right, theyt were originally called THE WEEDS and now, roughly thirty yeatrs after its release, they are called The Weeds after all - and this is the first complete re-release of all things wild and weedy. A fold-out sleeve with rare photos, flyers etc, the whole story of Fred Cole, the Weeds and the Lollipop Shoppe (written by yours truly, I'm proud to say, with Hans and Fred), and of course: the music, on cookin' vinyl!!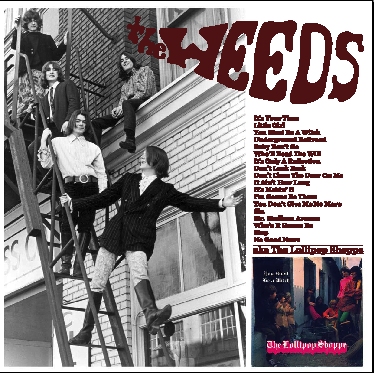 It's not just the re-release of the original album... Here we have them all, from the rare 45 "It's Your Time" b/w "Little Girl" to the tracks from the "Angels From Hell" soundtrack, and the early 70s 45. DON'T MISS IT!


---
- - - - - - 2 0 0 6 : - - - - - -
SOMETHING TO CHECK OUT:
In spite of the Dead Moon split, it's not all bad news. Or at least there's some things you can check out. First of all the Dead Moon Night/Thirteen Off My Hook CD is released (and it'll be added to the Cole Mine page asap), and secondly the Dutch band Peter Pan Speedrock just released the DVD "Speedfreak manifesto". What makes this worthwhile for Dead Moon watchers: on tour in the US, Peter Pan Speedrock decided to pay a visit to Tombstone Music, which is documented on this DVD. It's just a short piece of footage shot with a handheld cam... but it's very nice (and Peter Pan Speedrock is a fine band as well). Some screencaps here.


---
FRED CONFIRMS:
"After 20 yrs, Dead Moon is retiring. It has been a journey we will always treasure and feel that a worldwide family has emerged in its place. Dead Moon became much bigger than the band itself, it became a DIY underground hopeful for a lot of people. The candle is still burning!
--Fred Cole"

I think it's OK if I quote from an email Fred sent to me just now:
"So many people have become lifelong friends because of this band and I think the theme of no matter how hopeless things seem, we all have each other to pull on. I have 20 years of memories you couldn't buy at any price."

We all have.

Thank you Fred.
Your songs remain, and I'm sure we're not rid of you yet. You broke the mould.
Thank you Toody.
Your laughter will ring in our ears for ever. We were all in love with you, at some point.
Thank you Andrew.
You have touched the hearts of so many, you will probably never know. Take care.

Maybe we should all start a band today.
Or, at least... burn a candle.


Needless to say, this website remains up. Due to heavy data traffic it's sometimes not accessible, I'm sorry about this. The Dead Moon Digital Zone however will NOT be closed down, and I will keep you all informed about what's happening.

To quote Fred (you find it on the Dead Ahead sleeve):

THE MOON HAS SLIPPED
BEHIND A CLOUD
AND AS THESE CHANGES
STILL UNFOLD
WHO CAN KNOW
WHAT FUTURES HOLD
---
RUMOURS - AND UNFORTUNALLY, THEY ARE TRUE:
AFTER THE CANCELLATION OF THEIR U.S. DATES, RUMOURS WERE FLYING.
I AM SAD TO SAY TO YOU ALL THAT IT IS TRUE: DEAD MOON IS NO MORE.
IF THERE IS AN OFFICIAL STATEMENT TO PUT ON THE INTERNET, YOU WILL READ IT HERE.
BUT THERE IS NO DOUBT ABOUT THESE SAD FACTS.
I DO NOT KNOW THE REASON, I DO NOT KNOW ANYTHING ABOUT FUTURE PLANS.
FOR NOW, ALL I WANT TO SAY IS THANK YOU FOR 20 YEARS OF THE BEST MUSIC ANYONE COULD GO OUT AND SEE.
THIS WEBSITE WILL REMAIN UP, AND I WILL KEEP YOU ALL INFORMED AS GOOD AS I CAN.
-------ERIC, DEC 13, 2006
---
RUMOURS - AND GOOD ONES
With three Dead Moon shows in a row I could go and see, the DVD of Unknown Passage now released (!!!!), the Sub Pop album, some new merch to drool over (including a hip flask, can you believe it? Brilliant!), and some good heart-to-hearts with Fred, Toody and Andrew, it's time to give you a couple of rumours. When I tell you that Hans Kesteloo may have enough material for a 5 LP box set of archive material from Freds past, what do you say? Seriously, it's rumours, but I put my money on a release of the three Rats albums on one CD, plus finally the Weeds/Lollipop Shoppe rerelease, plus the aforementioned Big Fucking Box Project.
Yes - I know, the Sub Pop 2CD album was also set out to be a box set and turned out to be a 2CD... (a cool 49 song one, at that!)... but I have reasons to believe that Hans has got his hands on some real cool stuff. Ha!
- - - - - - - - - - - - - - - - -
DIGITAL ZONE SHUT DOWN FOR TWO WEEKS
Nothing to worry about! I'm just unable to do the updates for two weeks, since your faithful webmaster is going on a European tour, first two weeks of July, playing bass for Robert Gordon and Chris Spedding. This is not the place to elaborate on that, but if you want to know more about this, check Robert Gordon's site here, or more about Eric's other low-down'n'dirty-rock'n'roll affairs, including years of playing with Link Wray, at this site.
- - - - - - - - - - - - - - - - -
THE TITLE OF THE DEAD MOON BOX...
...will be "Echoes of the Past", and it looks like the box will contain 2 CDs. Check out SubPop, the release is scheduled for September.
- - - - - - - - - - - - - - - - -
DEAD MOON ON MYSPACE
That's correct... Dead Moon can be found on MySpace nowadays... so why not take a look there: http://profile.myspace.com/index.cfm?fuseaction=user.viewprofile&friendID=56205878
- - - - - - - - - - - - - - - - -
DEAD MOON IN FEATURE FILM
Independent film maker Lee Lynch has made what James Benning has called "an extremely sensitive film about family and life". Fred Cole says "really a killer job, no kidding!" So why is a film called "Transposition of the Great Vessels" on the Dead Moon Newsroom page...?
Well, "It's OK" is on the soundtrack for one thing, and you actually see Fred singing it on screen - this all being a couple of decades after The Weeds appearing in a whole different kind of feature film (with a headless Fred - see the History page).
Seriously now... from what I have seen, this film is something special.
No, it's not a rockumentary, - not even close. But I feel that there's a good reason for Dead Moon being in that film.
As soon as I have seen it I will try and review it (I'm not a film critic OK?) and for now you are invited to have a look at Lee Lynch's web site: leelynch.net . Click "features" for the film you are looking for, but hey, take a look around. It is worth it - it would be even if there was no Dead Moon connection.
- - - - - - 2 0 0 5 : - - - - - -
BACK IN THE SADDLE
Good news, Dead Moon are firing it up again and theres a couple of gigs coming up, including a blast at new years eve. Once again see our 'road' page for details!
- - - - - - - - - - - - - - - - -
SEATTLE GIG SEPTEMBER 2005
That's correct... it's September 10th, see our 'road' page for details!
- - - - - - - - - - - - - - - - -
NEWS ON THE BOX
February, 2005: Fred tells me he is working on putting the box set together, using the original masters. "What is really fucked is that they are so old the tape is defragmenting. In other words, you can literally see pieces of tape falling off as you play it", says Fred, who is sweating trying to rescue all the old material from its original source before it's too late.
There will probably be one as yet unreleased song available for the first time here, from the Defiance recording sessions: I'll Follow You, sung by Toody and with a country feel to it (as we have come to know and love on later Dead Moon albums).
The box will contain 50-60 songs on 3 CDs "with an option of the dvd documentary", which would be brilliant to say the least.
Last quote from Fred: "We're still trying to figure how it will all work. Keep ya posted..."
- - - - - - 2 0 0 4 : - - - - - -
BOX SET ON ITS WAY
November, 2004: a Dead Moon 'anthology' box set on SubPop, well how does that sound to you? Sounds cool to me! Fred told me that SubPop and Dead Moon themselves are working on it, and that'll be the only 'project' for now since they'll take some months off from playing.
OK, you all know they deserve a rest after the touring they did recently!
- - - - - - - - - - - - - - - - -
LIMITED EDITION CD OUT NOW!!
June, 2004: there's an audio/video CD out, released by Music Maniac in a very limited edition; Dead Moon live at the Paaspop festival in Holland, April 10th, 2004. Details at the bottom of the Cole Mine! Video registrations of 'Diamonds In The Rough' and 'Dawning Of The Dead', plus a bunch of audio-only live tracks and a nice bit of backstage footage. The audio suffers from huge digital glitches in the fist two songs (but those two have better sound in the video section). Otherwise the live sound is very, very nice! Including new songs like 'One World' and 'The 99s' it's definitely worth tracking this one down. The backstage footage has Fred rambling about travelling and touring, with some helpful remarks from Andrew and Toody who concludes "thank God it's indoors today". The video shots of Dead Moon live in full flight was done from the back, by someone who I guess wasn't too familiar with the band's music - but it's nice to look at even if there's a huge festival tent pole in the way in some shots... or, well, that's what I think.
Oh, and Andrew bounces a drum stick from his snaredrum into the air, - to actually catch it, even twice! Ha!
- - - - - - - - - - - - - - - - -
DEAD AHEAD - THE SLEEVE
March 2004: that's right... this the sleeve of the new album:


There's more to check out at Hans Kesteloo's pages:
have a look!

I have most of the lyrics to the new songs too, so that's in the lyrics section now.
- - - - - - - - - - - - - - - - -
"UNKNOWN PASSAGE" - THE DEAD MOON DOCUMENTARY
January, 2004: All there is to know about the Dead Moon documentary 'Unknown Passage' is on the site of those responsible: Magic Umbrella Films! Congrats Jason & Kate!! All of you reading this, GO SEE THAT SITE, cos they put up a lot of photos you've never seen before... amazing stuff, I totally LOVE it! Can't wait to get my hands on a VHS or DVD version of "Unknown Passage" - that simply MUST be released some day!!
- - - - - - - - - - - - - - - - -
"DEAD AHEAD" (P)REVIEW
January, 2004: I've put a (p)review of the new album here!
Like before, it's just how I feel, and my humble opinion is just that.
You can't expect me to be objective...
- - - - - - - - - - - - - - - - -
"DEAD AHEAD" SONGTITLES
January, 2004: here's the titles, copied-&-pasted from Fred's email!

1. Signs Of Departure
2. One World
3. An Occupation With You
4. Dawning of The Dead
5. Already Gone..
6. War Is Blind
7. Go My Way
8. On and On
9. The 99's
10. All Sold Out
11. In The Waiting

Fred is now busy editing...
- - - - - - - - - - - - - - - - -
NEW ALBUM "DEAD AHEAD" ON ITS WAY
January, 2004: Fred tells me Dead Moon are 'just about done' with a whole new album, 11 new songs, all originals! If I can get my hands on a tape, a test pressing or whatever, I'll do a (p)review like last time.
All right - a new album coming up, a new European tour - time to crawl out of our caves!
- - - - - - - - - - - - - - - - -
DEAD MOON DOCUMENTARY
January, 2004: Remember the film crew shooting on stage, off stage and backstage Dead Moon footage for a documentary? Well - Jason and Kate have finished the job and the results are shown for the very first time on Jan 17th 2004, as a part of the Portland art museum / NW film center's REEL MUSIC film festival at the Guild theater in Portland OR.
We try to keep you updated with further viewings of this documentary, and last thing I heard is that a DVD version is definitely an option...!
- - - - - - - - - - - - - - - - -
EUROPEAN TOUR IN MARCH
Happy new year everyone, the Dead Moon Digital Zone has entered its sixth year, and there's good news to begin with... March 2004 brings another European tour, and after the one-off in Haarlem, it's about time...!
- - - - - - 2 0 0 3 : - - - - - -
TOMBSTONE BUCKAROO
October, 2003: that's right, have a look at this!
- - - - - - - - - - - - - - - - -
NEW SONGS
April 20, 2003: The one-off show yesterday in Het Patronaat (Haarlem, Netherlands) was a sold-out, cooking, steaming gig - as was to be expected! Three new songs made their European debut: Dawn Of The Dead, Already Gone, and War Is Blind. With Edwin Heath once again at the faders, two of them got a final run-through in the soundcheck, and during the show the audience responded very well to all three songs. Already some stuff for a new album is being recorded, but as Toody said: "there's so much other things we have to do, and all the time we go like, oh man we want to finish the new songs first but we have no time!" Afterwards, in "Jšgermeister time", Fred, Toody and Andrew signed the T-shirt of a guy named Jeffrey (the son of the driver who picked up the band from Schiphol airport) and what Fred wrote down is worth a mention here: "GROWING UP IS COOL!"
- - - - - - - - - - - - - - - - -
TROUBLE WITH LIVE ALBUM?
Jan 25, 2003: The new album Alive In The Unknown is a great recording, fine sound quality (but not too good if you see what I mean), Dead Moon recorded not in the unknown but in Seattle in fact - but there's a huge mistake made in the mastering. Well, at least my copy has this fault on it. Fred mailed out a continuous live tape to V8, but the CD gives a 2 sec silence inbetween all the songs - which is of course horrible! You can of course, if you have the software, load the CD into your computer and burn a copy that skips the blanks (making a copy for your own personal use is legal!), but maybe it was just a handful of copies that have this problem. Then mine is a collector's item :-)
- - - - - - - - - - - - - - - - -
ONE-OFF SHOW IN HOLLAND POSTPONED
Jan 22nd: The one-off show in The Netherlands, Europe, more specifically in Haarlem at Het Patronaat, has been postponed and will now be April 19th...
We'll keep you posted.
- - - - - - 2 0 0 2 : - - - - - -
NEW LIVE ALBUM!!
Dec 4th, 2002: Rumours were floating around but yes, there's a new live album: Alive In The Unknown! It's released by the Australian label V8, which is Melbourne-based; the album is CD only, distributed by MGM (snail mail address here!), and available at this webaddress, too. Details to follow.
- - - - - - - - - - - - - - - - -
NICE SHIRT, THERE...
I'm pretty sure you all have heard of The Kwyet Kings, but just in case... scheck out their new website and you'll see what I mean!
- - - - - - - - - - - - - - - - -
AUSTRALIAN DATES
That's right, we have the dates for the Australian tour in December. Don't know if New Zealand is in the pipeline but as soon as we know more it's here. For exact dates see our tour page as usual!
- - - - - - - - - - - - - - - - -
ONE-OFF SHOW IN HOLLAND
October 15th: Dead Moon have announced a one-off show in The Netherlands, Europe, more specifically in Haarlem at Het Patronaat, Feb 15th. This 'celebrates' the goodbye to the old Patronaat building, that will be demolished. A new Patronaat will be reopened later this year, I believe...
More details to follow.
- - - - - - - - - - - - - - - - -
AUS/NZ TOUR COMING UP
September 6th: Fred told me there are definite plans of touring Australia and New Zealand, December 11th 2002 to January 15th 2003!
The exact dates will be listed (and corrected as we go along), and by the way - speaking of updates - I apologize fot the fact that the updates on the US tour were delayed - I was on a short holiday, and I'm not the kind of guy that carries a palmtop computer... but I'm back, up and running. Ermmm, make that sitting down and hammering on the keyboard :-)
- - - - - - - - - - - - - - - - -
DEAD MOON MERCHANDISE SITE: NOW LIVE
July 17th: Tombstone now have a site for Dead Moon merchandise, selling CDs and vinyl and the lot thru the internet. There'll be a section of Tombstone releases by other bands, that can be mailordered as well... way to go! The address is www.deadmoonusa.com... Check it out NOW!
Meanwhile this site is now listed as the Official Dead Moon Web Site on the sleeve of the CD re-release of 'In The Graveyard'/'Unknown Passage'. Thanks guys!
- - - - - - - - - - - - - - - - -
U.S. TOUR DATES ARE HERE
July 9th: Yep there's another US tour coming up. See tour page for details!
- - - - - - - - - - - - - - - - -
IN THE GRAVEYARD/UNKNOWN PASSAGE CD-RELEASE:
March 5th: That's right, the first couple of albums Dead Moon released will be available on CD soon! The first release is In The Graveyard together with Unknown Passage on one CD, on Tombstone, catalog # TCD1.
Tombstone TCD2 will be Defiance plus a number of rare 7" tracks... we'll keep you informed.
- - - - - - - - - - - - - - - - -
THE NAPOLEONS RECORDING WITH TOODY:
Feb 15th: Toody has contributed a backing vocal (over the phone!) to the song 'Train To Whateverwhere' by Dutch band The Napoleons. You hear Toody kinda echo the singer's lines in a bit of spoken word halfway the 1'40" song. The fact that it was recorded over the phone, intercontinentally, may be something quite unique in the recording business...!
The song will be released as part of a 7" split-EP with Dutch surf band dr.Reverb, and will be out on Tombstone in April.
- - - - - - - - - - - - - - - - -
DEAD MOON: IN EUROPE THIS APRIL!
"As it looks very likely that Dead Moon will play All Tomorrow's Parties (in Camber Rye, England, curated by Shellac's Steve Albini) during two weekends (one show April 19-21 and one show April 26-28 - exact show dates t.b.c.), the band will be available for further festivals across Europe and selected club shows."
This message went out from Paperclip Agency earlier this week (Jan 22nd) and so let's all pull whatever strings we have to make it happen...!
- - - - - - 2 0 0 1 : - - - - - -
CHECK OUT THIS COMPILATION:
In an e-mail message, Fred told me: "the Home Alive 2 compilation came out in which they put a song by us that Toody, our daughter Amanda, and our granddaughter Morgan sing. It's pretty cool hearing 3 generations of girls doing a verse each."
You can say that again... it's a great song; another dreamy one. Toody sings the first verse, Amanda the second, then Fred takes the third for a guitar solo, and Morgan makes her debut in the last verse. And very well done too! Despite the fact that this recording has more tape hiss than I have ever heard on a Dead Moon recording - you mustn't miss this one. Get in touch with Home Alive and order this album! Home Alive is a non-profit anti-violence organization that teaches self-defence to women and girls for free. And yeah I know, lots of comps put together like this have one or two well-known names and a lot of local heroes - but here there's a handful of bands that, okay, I've never heard of before, but these guys'n'girls are giving you actually a shitload of great songs. Besides, there's The Makers (w/Peter Buck?!), and Zen Guerrilla, etc, so do yourself a favour and check out the record label (Broken Rekids) or Home Alive to order a copy.
Maybe I should add: today!! :-)
- - - - - - - - - - - - - - - - -
WEBSITE UPDATE
Due to the popularity of Dead Moon and hence the fact that lots of people want to view this site, it was shut down temporarily for a number of times. The message from Yahoo!/GeoCities read: "Congratulations, your site (...) seems to be very popular and has been receiving a large amount of traffic. Our records indicate that you're using more than the allotted amount of data transfer we provide for a free web site, which is 3 gigabytes per month (measured on an hourly basis). That means that during the past few days we had to temporarily turn your site off to keep the bandwidth within this limit."
With full support of the band I'm working on getting things fixed a.s.a.p.!
- - - - - - - - - - - - - - - - -
NOVI SAD GIG CANCELLED
THE FOLLOWING STATEMENT WAS GIVEN BY PAPERCLIP AGENCY:
"Forced by circumstances Dead Moon was forced to cancel their show in Novi Sad / Yugoslavia (June 29). It unexpectedly turned out to be impossible to get the necessary customs documents for crossing borders with equipment (amplifiers, drumkit) in time. These documents (ATA Carnet) are needed to cross borders outside the European Union.

The ATA carnet that was used on the May tour had expired. Renewal would take more than a month. The Novi Sad show was added at a late stage; now it turns out it was a too late stage. Other shows outside the EU are not affected since alternative options are available, but this is not the case for crossing or entering Hungaria (on the way to Novi Sad), Yugoslavia and Croatia (on the way back from Novi Sad).

Dead Moon always do all they can to do all shows that are fixed. Cancellation is a bad word in the Dead Moon dictionary. The band regret these circumstances very much and will make this up to the local promoter and the Yugoslav audience on the next European tour."

- - - - - - - - - - - - - - - - -
WEBCAST NOW AVAILABLE
Log in to http://www.dcn.com/, register if needed, click the 'bands' button, and then use 'find by name'. Under 'D' you find Dead Moon at the Satyricon - it's excellent stuff!
- - - - - - - - - - - - - - - - -
TOUR PHOTOS AT ON-LINE FANCLUB PAGE
The 'Dead Moon on-line fanclub' is a great meetingplace - if you hadn't checked it out, do so NOW, 'cos there's some fine photos of the new tour.
- - - - - - - - - - - - - - - - -
NEW DRUM KIT FOR ANDREW
After over a decade of loving abuse, Andrew had to say goodbye to his old Ludwig kit. The bassdrum had become almost egg-shaped and they had already patched up the floortom with pieces of metal to keep it together. The new drum kit is a maple one, in natural wood finish, made by Maxtone. Of course it is perfectly suitable for the Jack Daniels candleholder.
- - - - - - - - - - - - - - - - -
DEAD MOON WEBCAST!!
The Dead Moon show in Satyricon (Portland OR) on Friday, April 13th will be captured in sound and vision for a webcast.
Those responsible: DCN - click and find out more about them. We'll keep you updated as always. Let's hope this webcast will include the reunion of KING BEE, Freds legendary late seventies punk outfit that will climb the Satyricon stage for this one-off gig.
- - - - - - - - - - - - - - - - -
SONG BY SONG REVIEW TRASH & BURN
Objective? Hell no. But here's a song-by-song review, of the new album, by Eric Geevers (the webmaster of the Digital Zone).
- - - - - - - - - - - - - - - - -
NEW DEAD MOON ALBUM OUT NOW!!
Available from your local record store - out on Music Maniac (Eur) as MMLP/CD 072 and on eMpTy Records (USA).
Total playing time 32'28". And yes it's a great album!! Booklet includes lyrics.
- - - - - - - - - - - - - - - - -
NEW DEAD MOON ALBUM: THE TRACKLIST
The new album (the title is now certain: TRASH AND BURN) has the following songs...:


- - - - - - - - - - - - - - - - -
NEW DEAD MOON ALBUM: THE SLEEVE
...and it's another cool one: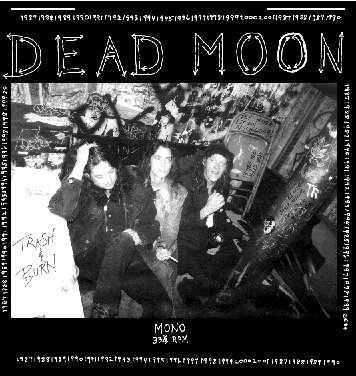 - - - - - - 2 0 0 0 : - - - - - -
NEW DEAD MOON ALBUM: EARLY 2001
Following the news we had that Dead Moon were songwriting and recording so relatively quickly after 'Destination X', we now have two possible titles of the new album for ya: 'Trash And Burn' and '14 Years The Hard Way'. Both sound fine but as soon as I know which one it'll be, I'll let you know! Release will be on eMpTy Records (USA) and Music Maniac (Europe). It's due in February or maybe not 'til April - but around April/May we can expect Dead Moon touring Europe again too...
- - - - - - - - - - - - - - - - -
PEARL JAM "IT'S O.K." AS MP3...HERE:
Pearl Jam have a great website called Five Horizons; it's "a fan-based, unofficial, volunteer, UNPROFESSIONAL operation" but it's really very, very good. Even if you're not into Pearl Jam you can have a good time reading their disclaimers, FAQ, the lot. They make sense! Anyway I got an MP3 from their site with their permission to put it on the Digital Zone as well, and if you click here you can listen to, or download, that MP3. Thanks Caryn and all at Five Horizons!!
- - - - - - - - - - - - - - - - -
DEAD MOON PLAY NXNW
The West Coast version of the SXSW (South By South West) hullabaloo,
which for some reason was named NXNW, has Dead Moon on the list of bands playing.
The 'big local music rag' The Rocket puts on an invites-only show the 23rd of this month (September) and according to Toody
"that should be interesting with all the 'big wigs' of the music scene here for free booze and music".
- - - - - - - - - - - - - - - - -
SONGWRITING IN NEVADA
Furthermore, Toody has faxed me this:
"Fred has written a few more new songs while we were in Nevada for his birthday
so looks like we'll record another session soon and see what songs to use on the LP from there."

Yep, Fred has turned 52 ("you immediately become a lot smarter than you are at 51", he wrote)
and this was celebrated with the traditional 'having a blast in Reno' that always works inspiring, songwriting-wise.
(Well, it works for Fred!)
- - - - - - - - - - - - - - - - -
PEARL JAM PLAY DEAD MOON!
We knew that Eddie Vedder did "Running Out Of Time" and "Diamonds In The Rough"
at the Tibetan Freedom concerts (see somewhere below),
but we now hear that Pearl Jam did "It's O.K." during their tour this summer.
Anyone who knows where to find a recording of this...?
Legally released or otherwise...?

(source: Chris Bois)
- - - - - - - - - - - - - - - - -
NEW ALBUM... INDEED
From a fax I got from Fred (dated Sept. 10, 2000) comes this news:

("We're just about finished with the new album and should get it out end of the year. See you in the spring of 2001")
- - - - - - - - - - - - - - - - -
DEAD MOON: LATEST NEWS!
Finally some news to tell you about Dead Moon themselves.
Why not give it to you straight...? From a letter by Toody, dated June 26, 2000: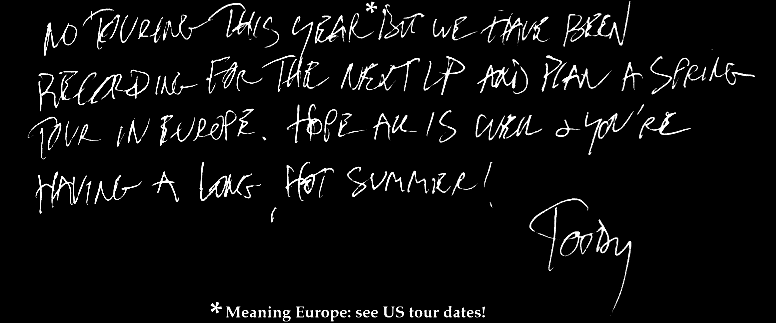 - - - - - - - - - - - - - - - - -
DEAD MOON TRIBUTE: HERE IT IS !
Here's the CD sleeve on the left, and the poster of the release party...
- - - - - - - - - - - - - - - - -
DEAD MOON TRIBUTE: IT'S A DOUBLE - AND HERE'S THE TRACKLIST
Yep, we have the complete tracklist of the Dead Moon Tribute Double CD as well... Here's all you want to know.
- - - - - - - - - - - - - - - - -
DEAD MOON ONLINE INTERVIEW (OR...?)
Denim magazine has an interview with Toody. I'm not sure whether it'll be on line or not but click here to have a look...
;- - - - - - - - - - - - - - - - -
DEAD MOON ONLINE FANCLUB!
Dedicated dead Moon fan Jens Knoechel has launched an on-line fanclub. I'm not sure what it's all about but hey, why not go and find out for yourselves: right here!
- - - - - - 1 9 9 9 : - - - - - -
DEAD MOON OFF TO SPAIN!
Despite rumours about a whole tour of Spain, there is only one date confirmed. On Saturday Oct 9th the band plays Calahorra, in the province of La Rioja, between Logrono and Zaragoza. It'll be a late-nighter at a festival called Serie B. More information if you click here; my Spanish isn't as good as it never was anyway but I guess there's a whole lot of information there.
- - - - - - - - - - - - - - - - -
WE'VE MADE THE BIG 10.000!!
Or rather, you have made the big 10.000, since the Dead Moon Official Website has celebrated its 10.000th 'hit'! It's a great reward for us to find that everyone out there is interested in Dead Moon, and subsequently in the work we have put in our website. A big thank you once more, especially to those who wrote us pointing out glitches, giving additional information etc etc - thanks!
- - - - - - - - - - - - - - - - -
THIS TOURS PHOTOS
Theo de Kreijger has put some photos on his site, go and see!
- - - - - - - - - - - - - - - - -
NEW USA DATES
That's right, Jens told me there were new USA dates on the eMpTy calendar (thanks!), so here we have 'em.
- - - - - - - - - - - - - - - - -
YOUNGEST DEAD MOON FAN?
In Lierop, Holland (the start of the European tour) we spotted a nine year old girl from Germany, named Maria, who was actually singing along with most of the songs - even new ones!! She had asked her dad to take her to see as many Dead Moon shows as possible, and her dad Hans says "Maria has been singing along with those songs since she was only six!" Hey Maria, please send us a picture (maybe one taken at De Koornbeurs) so we can add it to our site - you look great in that Dead Moon shirt... or should I say 'skirt'?!
- - - - - - - - - - - - - - - - -
THE NEW ALBUM IS THERE!
That's correct, from now (July 21) you can buy a copy of "Destination X" at your local record store, or you can order one there; the Music Maniac (Europe) version is MMLP/CD-070.
- - - - - - - - - - - - - - - - -
DEAD MOON TRIBUTE COMPILATION!
Last Chance Records, in Portland Oregon, are working on the release of a Dead Moon tribute compilation album. More detailed information? Click HERE and read all about it...
- - - - - - - - - - - - - - - - -
ANDREW HAS A NEW DRUM KIT!
...but don't worry: it's for rehearsal and recording only...
(source: Miss Thing)
- - - - - - - - - - - - - - - - -
EDDIE VEDDER PLAYS DEAD MOON SONGS!
At the Tibetan Freedom Concert, June 13, 1999 (and in fact also on the try-out for this, in a Chicago bar the day before) Pearl Jam singer Eddie Vedder played two Dead Moon songs, accompanied by the guys from C Average. The songs were "Running Out Of Time" and "Diamonds In The Rough", although the official Pearl Jam site first announced the latter was "I'm Not Ready" by Bernie Torme. Ah well, all cleared up now; Caryn from the fan-run (but accurate!) Pearl Jam site Five Horizons correctly marked both songs as originally by Dead Moon rightaway, and besides she's working on setlist scans and whatnot. Check it out!
- - - - - - - - - - - - - - - - -
NEW ALBUM

CLICK FOR OUR REVIEW OF THE ALBUM!

1. Down To The Dogs
2. It's A Long Way To The Top
3. To Nowhere Down
4. On Another Plane
5. Bad Case
6. Raise Up The Dead
7. Rescue
8. Only Want To Be Your Man
9. As Teardrops Break
10. Point Of No Return
11. Last Train



And yes that #2 is an AC/DC song, with Toody on vocals!!!
Release is set for June 1999. (There's a review here.) Of course, it will be available from Music Maniac (Europe) and eMpTy Records (USA).
Quoting Toody (from a letter dated Feb 19, 1999):
"The tones we got on everything (especially my bass!! finally) are the best yet. This should be the best Lp we've done yet. We did the music tracks in our new practice room at Tombstone & the acoustics of that room are great. Now he's drug the tape deck back home for vocals & overdubs & mixdown."

And yes, there's tour news too! The same letter says there are plans "(...) to come tour the new LP from the middle of August through September. We're considering driving through the U.S. playing a few dates on the way, flying out of New York or someplace on the East coast and then taking off several days or a week and playing dates down through Texas & California on the way back home. (...) We'll also do a short run down to CA in April or May just San Francisco, LA, & San Diego.";;
Needless to say, as soon as we have tour(up)dates
we'll put them on the site!



- - - - - - 1 9 9 8 : - - - - - -
A fax from Fred, Sept 98: Freds 50th birthday (Aug 28) was celebrated in Reno (no surprise), where they did a 43 hour stretch, living on coffee: a new record! Slotmachines have proved to be helpful when it comes to songwriting, too.
- - - - - - - - - - - - - - - - -
THE SPLIT 45 WITH DUTCH BAND THE NAPOLEONS HAS BEEN POSTPONED, AND SO IS THE PLANNED SPLIT 45 WITH SWEDISH GARAGEROCKERS THE NOMADS. TOO BAD!
We have now added a lot of pictures of sleeves - click on the underlined titles in the "Cole Mine" page...!
Also check out the now fully completed lyrics section!
- - - - - - - - - - - - - - - - -
| | |
| --- | --- |
| | Photo left: an acoustic appetizer version of "Last Train" can already be seen and heard on the CD-ROM version of "Hard Wired In Ljubljana". |
- - - - - - - - - - - - - - - - -

A LETTER FROM TOODY (DATED MARCH 17th, 1998):

"As far as I know Andrew never played on any Snowbud releases, just some of the live shows, but I'll ask him to be sure so remind me again later!" Will do...
- - - - - - - - - - - - - - - - -

COOL NEWS FROM HANS KESTELOO (EMAIL, MARCH 25th 1998):

"I have found a copy of the tape of the Torpedos, with the following tracklist:

I Can't Explain (Love)
Heart Full Of Soul (Yardbirds)
Little Red Book (Love)
Baby Please Don't Go (Them)
She's Not There (Zombies)
Train Kept A Rollin (Yardbirds)
Who'll Be The Next In Line (Kinks)
Talk Talk (Music Machine)
New Orleans (?)
Route 66 (Stones)
I See The Light (5 Americans)
Psychotic Reaction (Count 5)"

AND GUESS WHAT? HE SUGGESTED IT MIGHT (JUST ;MIGHT) BE RELEASED SOONER OR LATER!! IF YOU AGREE (LIKE I DO) THAT THE WORLD SHOULD HEAR THESE HISTORIC RECORDINGS, I SUGGEST YOU SURF TO HANS' PAGES (SEE "LINKS") AND LET HIM KNOW...
I'VE GOT A COPY OF THAT TAPE MYSELF (INCLUDING EVEN TWO MORE SONGS: 'WAITING FOR MY MAN' AND 'TIME HAS COME TODAY'!); ALTHOUGH THE RECORDING QUALITY ISN'T SO GREAT, IT DESERVES TO BE HEARD! UNFORTUNATELY I HAVE VOWED NOT TO COPY IT - NOT TO ANYONE. (SO HANS, WHAT DO YOU SAY?)
- - - - - - - - - - - - - - - - -

DEAD MOON's 10th anniversary celebrated at Haarlem gig
Oct 7th, 1997 was chosen for the "official" celebration of 10 years of Dead Moon. At the "Patronaat" club in Haarlem, Holland, each visitor got a free copy of a specially redesigned poster with Peter Pontiac's killer sleeve drawing for "Hard Wired In Ljubljana" adapted to "HARD WIRED IN HAARLEM". Lots of people were there; Hans & Angela, Peter Pontiac (and his brother in arts, Typex - "pronounced tea-bags", okay Peter!), Sjef Huurdeman... On request of the Patronaat, Peter had made a special design parodying the Jack Daniels label saying "Dead Moon" instead of the real brand name, and all other small print being Dead Moon-related too! Peter Pontiac gave his permission to put all this on the net ("scan away!") so here's a photo of the bottle - there'll be a scan of the poster later on.

With Haarlem being the home town of Sjef Huurdeman, and Sjef being the booker of the Patronaat, it was no surprise that he was called to the stage for a cool bit of blues harp in "Killing Me", but when Sjef gave the band the Pontiac-designed bottles (with the label upside down for Andrew...) it took them by surprise.
To quote Sjef:
"HERE'S TO ANOTHER 100 YEARS OF DEAD MOON" !