---
--DEEP SOUL COLE-- --WEEDS-- --LOLLIPOP SHOPPE-- --ZIPPER-- --KING BEE-- --RATS-- ---DESPERATE EDGE--- --WESTERN FRONT-- --DEAD MOON--
---
The story of Dead Moon is the story of defiance against all odds... and although Fred sings "I've been screaming at the top of my lungs since 1965" (in the song 'Poor Born'), first we go back in time just a little further than that - but you can also skip a couple of years by clicking on the bands above.
N.B.: More illustrations to come - we're still working on that end of the site... ever since we started this.
---

Before becoming a Recording Artist, Fred played in different bands. When he was 13, he sang and played bass in the Little Red Roosters, at some point in the Barracudas, but things really started with...:
---
Although The Lords were around for just one year (1964), they got themselves managed by Mike Tell (who would later on infamously be married to film star Patty Duke for a full 13 days in 1970). Through Mike Tell, The Lords got the gig of serving as a backing band for Frank Sinatra Jr, with Fred playing bass and also singing a handful of songs ('all screamers').
The gigs they did included strip joints, and Fred would sometimes have a difficult time focusing on the music. Also, since he was still under age and therefore not allowed in these clubs, they had to hide him - preferably in the dressing rooms of the girls. Needless to say... it wasn't all bad.
---

After The Lords broke up, a 15-year-old Fred Cole saw himself now being launched by the same Mike Tell as 'the white Stevie Wonder'. Initially Fred played with an all-black band. "They were all kids my age", recalls Fred, "but then we went recording, somewhere in '64 that was, and things had to be done professionally - so everything was played by studio musicians, and we had The Blossoms as backing singers..." Dig this: The Blossoms was a vocal group who had worked with Ricjard Berry, Phil Spector, and they would go on tour in the early seventies backing Elvis Presley. Of this recording sessions, only promotional acetates were pressed, most of them one-sided with a song called 'Poverty Shack' and some of them with a song called 'Rover' on the b-side ("a terrible, terrible song about my dog that had died"). Fortunately, one of the recordings was included in Vol.9 of the Music Maniac 'Sixties Rebellion' compilation album series: 'Poverty Shack' (a Sugar & Spice cover) is a great song, recorded for MGM Records at the LA 'El Dorado' studios. Mike Tell had hit singer (and later Okeh Records producer) Larry Williams have the whole affair produced, and Williams also played guitar. Freds vocals (and screams) were already very distinguishing, and again he also played the bass there - yes, with all those studio hotshots around, and Larry Williamsn at the helm, it was Fred who played the bass guitar!
---
THE WEEDS and THE LOLLIPOP SHOPPE

In 1966, Fred joined a loosely come-and-go line-up band that would become The Weeds: initially with Eddie Bowen on guitar, "two other guys, Ed Grabner and Scott Devitt", and Dennis Wyne (Wynn?) on bass for a while; it was very much like "whoever had the equipment was in the band, and Scott had it all, so he played guitar and sometimes we had him play bass". A guy named Russ King was the drummer at some point, and so was Sunny Alderette ("a great guy, but he was shootin' up dope, and his life went down the toilet in only six months...") Once the line up had consolidated, the Weeds were: Fred Cole - vocals, Eddie Bowen - lead guitar, Ron Buzzel - rhythm guitar, Bob Atkins - bass, Tim Rockson - drums. And they were pretty much happenin', although...:

"At one time, we were supposed to open for the Yardbirds, at the Filmore in San Francisco - but when we arrived, nobody there knew anything about us, and they told us to fuck off", says Fred, "so we ended up in San Francisco, in 'Needle Park', as 17-year-old kids with all the junkies there... anyway, we tried to split to Canada 'cos the draft was closing in on some of us. Man, that was a trip from hell! We had no money for gas, and even no money for food, so we raided the onion farms we drove past, and ate onions for five days, can you imagine... and we totally ran out of gas in Portland, Oregon... So we asked this girl, 'is there anywhere we can play around here', and that was a club called The Folk Singer... And, well, that was where Toody worked..."

Fred and Toody...:
"love in the altitudes" !
Toody Conner -believe it or not!- was "a very quiet, very shy girl" at the time (as she recalls) who "didn't hang with anybody", and although at first she (mis)took Fred for an arrogant asshole ("and I was, too!" says Fred), she thought the Weeds were great, and the lead singer in particular ( "But I wasn't gonna tell him that!"). They fell in love, putting it mildly, and although getting married was regarded a very un-hip thing to do for a rock'n'roll singer, their love was way beyond 'hip' or 'un-hip' and so they most definitely got married - and had to keep it a secret for quite a while...! This also meant: no wedding party, no honeymoon... (rest assured: when they celebrated their 25th wedding anniversary, they sure made up for that!)
| | |
| --- | --- |
| Folk Singer owner Whitey Davis managed the band for a while, offering them a steady gig at the (bigger) Crystal Ballroom venue and having them gigging in the area. When they decided to try their luck in LA they ran into the legendary 'Lord' Tim Hudson, who (for one thing) claims to have coined the term 'Flower Power'. Lord Tim also managed The Seeds (of 'Pushing Too Hard' fame), took over the Weeds management from Whitey, secured a record deal with UNI Records, but he also changed the name of the band to 'The Lollipop Shoppe' without the band's approval (if there had to be a name change at all, they had suggested 'Underground Railroad'). The first single as The Lollipop Shoppe ('You Must Be A Witch') firmly placed the band on the map, but nevertheless, Fred still regrets the way things went there and then - maybe it was his first clash with the business side of rock'n'roll... it wouldn't be the last. | The Lollipop Shoppe |
The Lollipop Shoppe (by then firmly Portland-based) were hip and happening. They were offered a cameo appearance, along with the Peanut Butter Conspiracy, in the film 'Angels From Hell'. Well, sort of...! Since this was a low budget type of film, they didn't want to show Fred actually singing; that would technically have given him a 'speaking part', so then they'd have had to pay him double! So what you see is the whole band - only, Fred is seen from his shoulders downwards... Most of the time, though, they had to wait in the hotel for the actual shooting. Ah well... from the moment they discovered room service the waiting wasn't so hard anymore. Booze! Paid for by the movie big shots! The film company simply didn't believe they could've drunk so much, but yeah, they ran up a thirteen hundred dollar bar tab in just two days. Says Fred: "And this was 1968, when drinks were a buck apiece!" And yes, this incident resulted in the Lollipop Shoppe being banned from playing in Bakersfield, California.
| | |
| --- | --- |
| The bands only album, 'Just Colour' (pictured here on the right), is a good document of 'psychedelic rock' from that era. Rocking out hard, yet with a gentle and beautiful side to it as well, it's no surprise that some of the Lollipop Shoppe songs (like 'Don't Look Back' and 'You Must Be A Witch') easily fitted in with the Dead Moon set list. All songs (except Eddie Bowen's 'It's Only A Reflection') were Fred Cole originals, too. | |
After the Lollipop Shoppe broke up in 1969, Fred played in a couple of local bands but was generally fed up with the rock'n'roll business (including the 'necessity' of keeping their marriage a secret). However, the band made a short re-appearance as Underground Railroad after all (for a couple of gigs) and even called themselves The Weeds again for a 1971 single, recorded as a threepiece with Ed Bowen and newcomer drummer Dominic Davis. The name of the Lollipop Shoppe however will not easily be forgotten, since countless cover versions of 'You Must Be A Witch' surfaced in the eighties garage rock boom, and lots of garage punk bands of today also pick this song for their set list (see 'Loose Ends' page). Even better is the fact that 'Just Colour', along with the 45s and soundtrack material, have been rereleased in 2007 (on vinyl and CD), proudly calling the band The Weeds again ('The Weeds a.k.a. The Lollipop Shoppe', Way Back Records MMLP/CD66026)

In 1970-'71, Fred, Toody and their two children (Amanda and Weeden; Shane was born a year later) moved to the Yukon, Canada, and stayed there for almost a year avoiding the draft (this was when Vietnam was happening, remember?). Living off the land in a self-built cabin, their minds weren't exactly set on rock'n'roll - there were other things to take care of, like protecting the kids from bears (Weeden: "Fred had to shoot a bear one time... he doesn't have any guns now, not anymore, but then we needed them - and we ate the bear's meat for weeks!") A surprise visit to Toody's mum in Portland nearly got them killed when their station wagon went over a cliff and then some 100 ft straight down - a guy helped them out and towed them to the nearest gas station... Anyway, when they wanted to return home to their Yukon cabin, they weren't allowed to leave the USA (draft dodging and everything) even though all their possessions were left behind when leaving theYukon! They went to L.A. instead, where Fred formed a duo called Cole Buzzel with, indeed, former 'Shoppe guitarist Ron Buzzel. After living a couple of months in L.A., then a couple of months in Portland, again some time in L.A. etc., a record deal with Elektra fell through and Fred and Toody decided to stay in Portland and start up a musical instruments shop, something that Fred had done earlier with Ed from the Lollipop Shoppe (that shop lasted for well over a year and was called Freedom Guitar). This new shop was named Captain Whizeagle's (note Toody's T-shirt on some early Dead Moon sleeve photos!)
---

Formed in 1973, Zipper was the first band to release an album (simply called 'Zipper') on Fred and Toody's newly started Whizeagle Records label in 1974, with Lorry Erk on drums, Jim Roos on guitar, Greg Shadoan on bass and Fred of course on vocals. It's basically heavy rock with Led Zep-overtones, raw and rocking. The album, quite rare in its original form now, was re-released in 1994 as an LP/CD with two additional tracks.
There were other early seventies bands Fred was in, like Albatross, but so far no recordings have surfaced.
---

At some point, Toody's younger brother Pat started working at Captain Whizeagle's. "We sat him down and gave him a drum kit", says Fred, and that fact led to the formation of a trio called King Bee, formed in 1976 with Mark Sten (a.k.a. Mark Stanley) as a bassplayer, and Fred doing vocals and this time picking up the guitar, too. Their only release, a 7" with three songs, almost makes Dead Moon sound hi-fi: the recordings were made in a back room with a tape recorder that had just been in a fire, "and the tape was stretched and melting. It hums so loud that the buzz is louder than the music!" Maybe so, but especially the killer guitar riff in 'Hot Pistol' makes this 7" a very cool one...
---
| | |
| --- | --- |
| | 1979 saw the birth of The Rats, and the beginning of Toody's bass playing (and singing!) career: as 'T. Rat' on the first album, 'Toody (T. Rat)' on the second and, finally, 'Toody' on the third. Why 'The Rats'? "We were all born in the Year of the Rat, so we were all rats in the first place!" The first album features Rod Rat on drums, who left the band shortly after that album and later sadly committed suicide - something that some Dead Moon songs, like 'D.O.A', directly refer to. Sam Henry (The Wipers, Napalm Beach) replaced Rod Rat for the 'Intermittent Signals' album, although Rod made a contribution on 'jungle drums' to the recordings before his tragic death. |
The third album, 'In A Desperate Red', brought yet another drummer into the picture: Louis Samora. The Rats must therefore be regarded as direct predecessors of Dead Moon in more than one way. Some songs originally released by the Rats (Animal, Until It Rains, Nightline) were re-recorded later with Dead Moon, and some songs recorded with Louis Samora ended up on a couple of early Dead Moon releases as well: 'Graveyard' (on the 'In The Graveyard' album), 'My Escape' (on 'Unknown Passage'), 'War Baby', 'Street Of Despair', 'Social Contender' and 'We Won't Change' (on 'Thirteen Off My Hook'). Louis Samora also played in The Torpedoes, a sixties-punk cover band with Fred on vocals, Mark Sten on bass, and Dave Corboy and Mark Nelson on guitars. (I've got a live tape of this band and it's great!) But let's not get ahead of ourselves... More about Louis Samora on this and this page.
---
THE DESPERATE EDGE and THE WESTERN FRONT

After the Rats split up as a band in 1983, and 'punk' had lost a lot of its original DIY charm, Fred was talked into doing a single produced by Bill Barker (from the Canadian band Scissors), under the monicker 'The Desperate Edge', again with Toody and Louis Samora. The result, 'Frustration' b/w 'Tremelo', is something Fred actually hates since it's "real hi-tech, lots of reverb and stuff". 'Tremelo' was also released by the Rats (so in the same line-up) on their "In A Desperate Red" album, and it's nice to compare the two versions...! It was around this time (somewhere in 1984) that the Cole family and Captain Whizeagle's Guitars & Amps store moved to Clackamas, just outside Portland, and the shop was re-christened Tombstone Music.


Still disgusted with what punk had become ("you know - we can play faster, we hate everybody, blah, blah") and this time teaming up with another of Toody's brothers, Kevin Conner (on bass) and with drummer Jeff Evans, Fred launched a cowpunk-and-western band called the Western Front in 1985 . On the one hand, this was a lot of fun (cowboy gear, hats, the lot) but on the other hand it was also an excellent opportunity for Fred to show that he could also still write beautiful, gentle songs (as their 7"-es b-sides prove). And, since Toody occasionally sang a few songs at Western Front gigs, a 7" by Toody accompanied by the Western Front was released as well, featuring Amanda (and others) in the backing choir. (The Brenda Lee song 'Coming On Strong' on the a-side made a smashing reappearance in the 1997 Dead Moon tour of Europe...!)
Another short-lived band around this time were The Range Rats, consisting of Fred and Toody accompanied by 'Rollie' the Roland drum machine, (playing live in small Nevada towns, to audiences who sometimes had never seen a live band before. A whole album of Range Rats songs was recorded but for some reason not released... not yet, anyway, because as you can hear on this MySpace page, if it's still there, it's great song material!! (The Range Rats album was eventually released by Mississippi Records, and it's terrific - with a live drummer, too! More details to come.)

The Western Front live; Kevin & Fred
---
Andrew Loomis, bartender and drummer, had only talked to Fred a couple of times when he was asked to join a newly-to-set-up band, again with Toody on bass. Fred and Toody still had "some weird-ass kinda country & western" as their aim then, which wasn't exactly what Andrew had been playing in his previous bands (like the Boy Wonders, and Snowbud & the Flower People), and things didn't really work out then. The Boy Wonders, who can be seen on the 'Unknown Passage' DVD playing a TV show, were pretty happening for a while. Snowbud and the Flower People were a stoned-out rock band, started by Chris 'Snowbud' Newman as a recording-only joke ('to make my pot dealer laugh'), but the joke got out of hand, and on the CD 'The Heart Is A Lonely Hunter' you can hear Andrew play drums (recorded live at the Satyricon).
Anyway, after the initial Fred/Toody/Andrew/C&W-tryout hadn't worked, Fred and Toody decided to go back to stripped down garage rock. This time, there was a chemistry when Andrew picked up the sticks. Dead Moon was born.
| | |
| --- | --- |
| | After this first rehearsal with just rock'n'roll in mind, Fred, Toody and Andrew had this idea like "fuck, yeah, let's do this!" The name Dead Moon was picked after seeing a huge red moon over the Nevada desert. The story has been told in various shapes and forms, but in 1997 Fred told me that 'Red Moon' became 'Dead Moon' since a band name with two four letter words made more sense to him: "it just looked better that way". The first gig was on September 17, 1987; the band played "after a couple of stand up comedians - we put up our equipment and everybody split, so we played for three people" (Fred) "...and the bartender!" (Toody) |
The first single, 'Parchment Farm' b/w 'Hey Joe' (released in 1988), was cut on a 1954 Presto-88 mono disc cutter; a present from Toody for Fred's 39th birthday. They actually had to break out a door post to get the thing in, but there it was: the disc cutter that once gave the world the Kingsmen's classic 'Louie, Louie' single. It took Fred some time to get it fully operational, but when it worked, nothing could stop Fred from doing things his way and his way alone. The record label to release these home-made records from then went on under the name Tombstone Records ('music too tough to die'), and Fred and Toody also released plenty of other bands on Tombstone (as you can see!). The first album, 'In The Graveyard', was recorded at the Fresh Tracks studios (I'm sorry, Toody, you said it wasn't but this is what it says on the sleeve!), produced by Fred and engineered by Steve Parker, but soon after that the recordings were made at home too. "We record (...) live in the bedroom, the hall and another room, with shit spread out all over the house". In 1990, with three Dead Moon singles and three albums in the Tombstone catalog, things started to happen internationally: Dead Moon were asked to play a couple of gigs in Europe and the German label Music Maniac (tipped off by Greg Sage of the Wipers) wanted to release a compilation of the Tombstone records. That became 'Dead Moon Night', strangely enough not cut on the Presto machine (although the sleeve claims '...mastered by Fred Cole') and not in mono ( the sleeve says 'stereo', too). In the same year, and in the same way, Music Maniac quickly released a second compilation - or maybe compilation isn't the right word; of the fifteen (!) songs on 'Thirteen Off My Hook', seven were previously unreleased (including five songs with the Rats' Louis Samora). Anyone raising eyebrows over this Music Maniac release policy should listen to these (otherwise 'lost') songs first...!
| | |
| --- | --- |
| | Sunday July 1st 1990, the band played the first of many gigs at the Vera club in Groningen, Holland. It was the club's 10th anniversary, lots of press around, which made this gig a major breakthrough! |
| | |
| --- | --- |
| So was the Metropolis open air festival in Rotterdam about a year later... I can remember Andrew walking on stage, discovering the huge (I mean huge) crowd out there, then quickly disappearing backstage and returning with an armful of cans of beer - a welcoming present for the audience: "here, catch!!" The band started off with 'You Must Be A Witch' and everybody went instantly apeshit. Music Maniac and the people behind it (notably Hans Kesteloo and his wife Angela) also helped in making Dead Moon widely known, although Hans is the first one to admit he hasn't got a clue what exactly the 'Dead Moon magic' is. Maybe it's the candle on Andrew's drum kit...? The following conversation comes from a radio show: | |

Toody (to Andrew): "You were the one who came up with the idea of the bottle and the candle, so I'm curious as it seems like it's always been there, when did you start that and what made you think of it?"
Andrew: "No, Weeden had the candle, I always had the bottle...there was a hole in the drums and it looked like it fitted, so I just put it in. I had a candle in front of the drums for a while, and Weeden was doing something there and set in top of it and Fred said: 'wow, leave it, leave it - that's lucky!' That was the first tour..."
In retrospect, it looks like Fred was right...You should know that Fred considers things 'lucky' (or 'unlucky') a lot: "yeah...I'm really superstious, in all kinda things...for example when I've played bad, I never wear the clothes I was wearing again. I have a whole closet of 'bad' clothes!"
| | |
| --- | --- |
| Andrew and his thirsty drum kit | The album to follow the two compilations, 'Live Evil', was the first album to appear simultaneously as an LP and CD, both on Music Maniac, with entirely different sleeve artwork for both (something they would repeat for 'Strange Pray Tell'). It was recorded live at The Longhorn, Stuttgart (Germany), on the 23rd of August 1990, with Edwin Heath behind the P.A. mixing desk for the sound (as he has been since day one in Vera). The whole thing gives you the exact atmosphere of a Dead Moon gig, including Fred's guitar being out of tune on 'Remember Me', Andrew trying to catch on with what Fred is doing (starting off 'Dagger Moon'), Toody apologizing for having "fucked up big time" on 'Johnny's Got A Gun', and the whole bunch ending "drunker than a skunk" but in absolutely 100% pure r'n'r brilliance. For the die-hards, the whole concert is also available as a (home-)video - one camera viewpoint only, but it's cool all the same! The video actually has some extras (like Fred changing strings, Toody calling Angela on stage, and an extra version of 'Walking On My Grave'). |

The follow-up studio album, 'Stranded In The Mystery Zone' (from 1991), is another great home-made record, containing songs like 'Clouds Of Dawn' (originally written for Zipper but never released) and the anthemic 'Spectacle'. On the sleeve of the LP version (Tombstone and mono!) you find probably one of the most extensive 'thank you' lists ever; if Dead Moon "wishes to thank everyone", they sure as hell try to actually do thank everyone - using almost the entire back side of the LP's sleeve. The CD version (on Music Maniac) doesn't have this, but unlike the LP sleeve, the CD booklet has all the lyrics. And the album contains the 'Over The Edge'/'In The Altitudes' 7" as 'CD only' tracks.
| | |
| --- | --- |
| | The next three albums were all recorded at home, mastered by Fred, and released by Music Maniac as LP and CD, with the 'extra tracks' idea being dropped after 'Strange Pray Tell'. The release of 'Crack In The System' was done simultaneously with the re-release of the legendary 'Zipper' album, since more and more people became interested in Fred's musical legacy. |
Like the previous albums, the 1995 album 'Nervous Sooner Changes' spread the word of Dead Moon being one of the most exciting bands around today, if not the most exciting band ever - and the tours brought the band all over Europe (including the former Eastern European countries) and even Australia and New Zealand, where a special 'tour souvenir' compilation CD was released. Back at home inbetween tours, Tombstone Music was moved to the current address and turned into a cool western-saloon-type of thing.

The photo on the right is the Tombstone Music store, as it is today (give or take a parking lot and such...)!

In 1996, the fact of Dead Moon being still on the rise was illustrated by their appearance in 'Hype!', a documentary film covering the music scene of Seattle and surroundings - and the rise and fall of 'grunge'. Although no way near a typical grunge band, apparently Dead Moon were considered hip, interesting, or influential enough to give their view on a couple of things: the whole idea of "fuck it, we're gonna do it ourselves, being in complete control ourselves" for one thing. The footage includes Fred fucking around with the famous disc cutter, bits of interview, and a snippet of '54/40' played live (the whole song being included in the soundtrack CD). The docu was initially released on VHS, it's now aslo available as a DVD (with different sleeve art, I'm now sure whether it has extras or not).
| | |
| --- | --- |
| | The '97 release, 'Hard Wired In Ljubljana' (or 'Live Mono'), is another live double album - and a very cool one, too. The sleeve features a drawing by Peter Pontiac that's beyond description, so cool! None of the 'Live Evil' songs were given a repeat performance, and for the first time there's a fourth musician: Sjef Huurdeman (of the Dutch band Sgeurvreters) on blues harp in 'Killing Me' - a cool guest performance for sure! Another novelty is the limited edition CD+CD-ROM version of this album. Although Toody said "we're not really computer friendly at home", the band has clearly given their full support to the making of this CD-ROM. It's a lot of fun, and personally, well, although I'm pretty analog myself (click 'view source' of these pages and you'll die laughing) I don't think there's any harm in fucking around with all these new possibilities. As long as "defiance against all odds" is the bottom line of what the rock'n'roll of Dead Moon is all about, I don't care. I mean, if you're so terribly focussed on the "it's mono and it's lo-fi" bit, howcome you're on the internet anyway?! Just remember that even that mono disc cutter once was a state-of-the-art piece of equipment! |
After the "Ljubljana" album, things were a bit quiet for a while - or at least that's the impression one might've had. Yeah, Dead Moon toured Europe (a 'short holiday in Europe' as the Paperclip fax called it... call that a holiday??) but we had to wait two full years for a new album. The result was definitely worth waiting; 'Destination X' is another set of soon-to-be classic Dead Moon songs. So what was keeping them? Lack of inspiration? Nope - just some things like Fred and Toody building some extensions to Tombstone music (the store) and Fred taking his eldest grandson fishing for the first time. But as we all can see, the 1999 tour was taking the band all over Europe again; they had a short trip Down Under, played some gigs in the US again, and the only difference is that they have even more songs to pick from. And there's a new tour shirt (being sold by Doug this time). One real difference is the fact that tourmanager and sound-engineer Edwin is no longer on board: he too became a daddy (congrats!) and now devotes his time to his kids (two, by now!) instead of going on tour... (see "small print" section, what it says for 'Destination X'!).
The 'following' that Dead Moon have built up in all these years keeps growing and growing; and in addition to that, great bands all over the globe see Dead Moon as either soul mates or it was Dead Moon that inspired them to make some 'dirty noise' for themselves in the first place - and this led to the release of a real Dead Moon Tribute Album, a double CD even, by the Portland based Last Chance label (who have close connections with Dead Moon themselves). US, European and AUS/NZ bands give their versions of Dead Moon/Fred Cole songs, and it's a blast!
The latest studio albums, 'Trash & Burn' and 'Dead Ahead' (released in 2001 and 2004 respectively) added another load of songs to the already impressive string of garage gems. Nothing new? Maybe, but would we want them to experiment with dance music? Guess not. Besides, the Fred Cole trademark in songwriting is as good as ever on these albums.
Proving that this quality songwriting was unflawed over the years, in 2006 Sub Pop released a 2CD anthology of the almost 20 years of pure rockīnīroll that Dead Moon have given us. Released almost simultaneously, a DVD called "Unknown Passage" (made by the wonderful people of Magic Umbrella) is an in-depth documentary that reveals al lot af what's been going on in all those years.

With the Sub Pop gaining plenty of attention, Dead Moon seemed to be on the brink of a breakthrough to a much bigger audience. People like Krist Novoselic (Nirvana) and Eddie Vedder (Pearl Jam) namedropping Dead Moon as THE band to check out also was a good sign.
However... after the European tour of October/November 2006, shows in the US were suddenly cancelled. Since this was very unlike anything Dead Moon had ever done before, immediately rumours were flying that the band had called it quits. Soon after, an official statement followed:

After 20 yrs, Dead Moon is retiring. It has been a journey we will always treasure and feel that a worldwide family has emerged in its place. Dead Moon became much bigger than the band itself, it became a DIY underground hopeful for a lot of people. The candle is still burning! –Fred Cole

Needless to say this was a shock to Dead Moon fans worldwide. Some of us saw it coming, but didn't want to know what was going on. The band had run its course, let's just say that's what it was. It will hurt that Dead Moon is no more, but we will always be thankful for the change Dead Moon has made in the lives of so many of us.


And, metaphorically, the candle is still burning:

On May 7th, 2007 the news came that Fred and Toody, with drummer Kelly Halliburton, would play as Pierced Arrows later that month, playing all new material. They did. Humbly opting for support slots ("since we're a new band"), they were soon railroaded into playing as headliners - which proved nervewrecking at first, but rewarding all the same! By now, Pierced Arrows have two full albums under their belt, plus a couple of 7"-es, plenty of touring, a video clip for "This Is The Day",and a terrific website: www.piercedarrows.com, set up and maitained by Jozzy!
Fred and Toody have recently been touring as a duo playing 'sort of acoustic' (that is: with tiny amps, and no drums), and March 2014 will see another European tour with Pierced Arrows.
Kelly is also busy with his band P.R.O.B.L.E.M.S., Andrew has been playing in different bands including The Shiny Things, and know what - when he celebrated his 50th birthday (on Nov 17, 2009) Dead Moon reunited for a one-off doing Can't Help Falling In Love! (The Rats, being Andrew's fave band, also reunited that evening. With Fred and Toody even wearing the same clothes as on the "In A Desperate Red" sleeve photo from -would you believe this- 1983!)
"On and on..."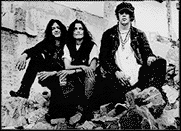 Eric Geevers, September/October 1997 - January 2014 (corrections and additions will still be made when necessary)
"The History Zone" is based on Music Maniac and Tombstone press kits; on interviews and articles in the Ptolemaic Terrascope, Bucketfull of Brains and lots of other 'zines (including in Dutch, French and German); on the small print of record sleeves, on the CD-ROM made by Wilko Bello & Maarten Meulendijks, on talks with Hans and Angela Kesteloo, Weeden Cole (thanks!) and last but not least on some Southern Comfort-spiced talks I (and, when we started out, Sandra) had with the band over the years.